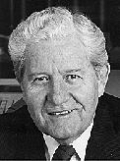 Farnsworth, Wilford Martindale Jr.

passed away peacefully at his home on the morning of December 10. Wilford ("Bill") was born on August 21, 1923 in Colonia Dublan, Mexico. He was the only son of Wilford Martindale Farnsworth and Eleanor Romney Farnsworth but was surrounded by his eight sisters Ella, Bertha, Maude, Lucille, Erma, Ruth, Nona and LaVieve.
A proud graduate of the Juarez Stake Academy, he was also educated at San Jose State University, UCLA, Columbia University and then graduated from the Brigham Young University. Subsequently he attended Rutger's Stonier School of Banking and Harvard Business School's AMP program.
A veteran of the United States Navy, he saw combat as an officer in the Pacific theatre during World War II. A lifelong member of The Church of Jesus Christ of Latter Day Saints, Bill was a full time missionary in Uruguay and Paraguay. Upon his return from Paraguay, Bill joined First National City Bank (later Citibank) and, more importantly, married his college sweetheart, Ella Hull.
With a wife and a job, he embarked on the great adventure of life. Together they forged their future in Uruguay (3 years), Brazil (4 years), Mexico (4 years), Summit, New Jersey (14 years), Germany (2 years), Philippines (3 years), England (4 years) and finally to California for the last 5 years of his professional life. During most of that period he was a senior officer at Citibank overseeing operations at various times throughout Central and South America, the Caribbean, Canada, Western Europe and the Far East. He was also CEO of Grindlay's Bank, a London based international bank with extensive operations throughout Africa, the Indian subcontinent and the Middle East. Later, he also was Chairman of First National Bank of San Diego, a director of Citibank-Arizona and a director of Sun American Mortgage.
While in California, he was awarded the Silver Beaver for his support of the Boy Scouts of America and also served as a Trustee for the Claremont Colleges. Upon his retirement from Citibank, he was called to preside first over the San Juan, Puerto Rico Mission of The Church of Jesus Christ of Latter Day Saints and then over the Mission Training Center in Mexico City, Mexico.
A faithful and diligent Latter Day Saint, Bill enjoyed opportunities to serve his church including as Bishop, District President, member of the Stake Presidency and as Regional Representative.
He fulfilled a life long dream of living in Arizona when they moved to Phoenix in 1991. Faith and family are what have been most important to him throughout his life.
He is survived by sisters Nona and LaVieve, his loving wife, Ella, children, Deney (Ric Paul), Marty (Marci) and Craig (Carla), 11 grandchildren, 14 great-grandchildren and legions of relatives, all of whom he held dear.
Memorial services will be held at the Arcadia Ward building of The Church of Jesus Christ of Latter Day Saints (4225 N. 56th Street, Phoenix, Arizona) at 11 am on December 14, 2009. In lieu of flowers, the family would encourage donations either to Hospice of the Valley or The Perpetual Education Fund.